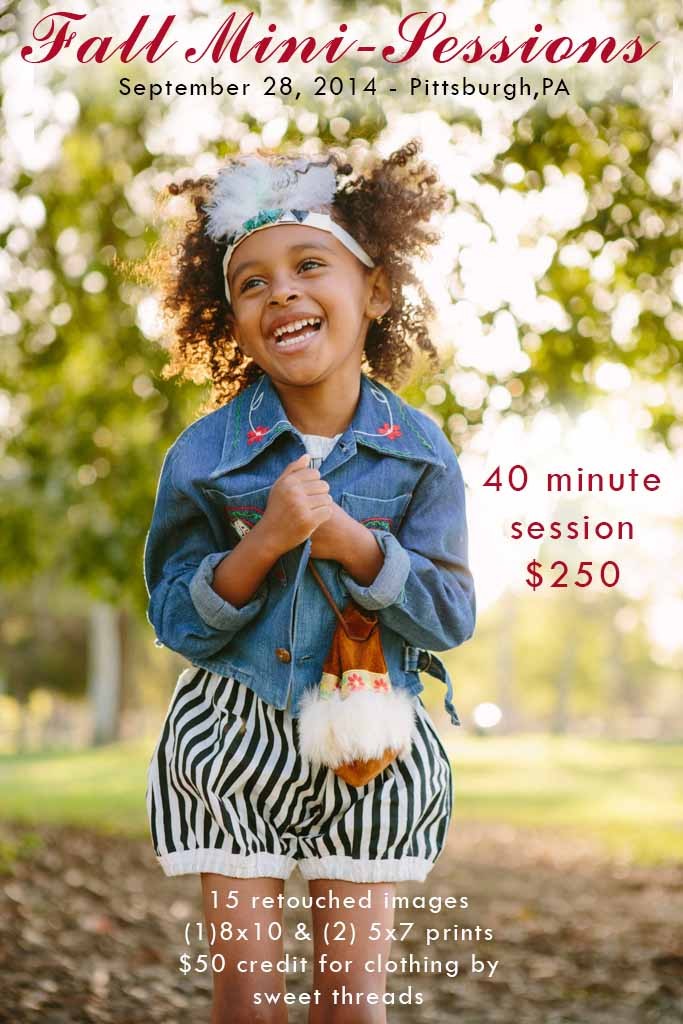 Hi Guys,
I am pleased to announce that I will be offering 6 mini Sessions in Pittsburgh on September 28, 2014.  These mini sessions are even better because they include a credit towards my favorite Children's new+vintage boutique, Sweet Threads.  I have had the pleasure of working with this company for almost two years and they impress me more and more every time.  I find that the outfits and designs Shella puts together really bring my images to life.  To check out more of the images me and Sweet Threads have created, check out my website under the kids editorial section. The sessions will take place in a park in Pittsburgh which will be announced next week. In these mini sessions you will get the following:
40 minutes session (up to 4 people)
15 retouched images with printing rights on a flash drive
1 8×0
2 5×7's
$50 credit towards clothing or accessories at Sweet Threads.
Price: $250
Let me know who wants them!  After that, I will put you in contact with Shella of Sweet Threads who will help create the look you want for the shoot.  If you want to save your gift card/credit for a later time, that is great with us as well.  I do recommend though that you use it for the shoot, she has an eye for this stuff so take advantage of this opportunity.
The time slots for this shoot are as follows:
3:00pm
3:40pm
4:20pm
5:00pm
5:40pm
6:20pm